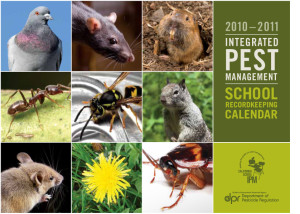 The California Department of Pesticide Regulation offers a free, information-filled calendar, designed to help school maintenance personnel manage and keep records of all manner of pest problems that may afflict schools, as well as our homes and businesses. The information ranges from tips for controlling rats, mice, ground squirrels, pigeons and yellow jackets to tree debris and invasive weeds. Although the calendar was designed to assist schools in meeting the requirements of the Healthy Schools Act in recording pest control activities—and is an August 2010 though July 2011 calendar—it's so chock-full of interesting and useful pest management information, from images of mouse droppings to dandelion control, that we wanted to pass along the information to our Sacramento pest control customers and friends.
To download this 2010-2011 school year calendar, go to: http://apps.cdpr.ca.gov/schoolipm/10-11_calendar.pdf.
Or e-mail [email protected] to receive a hard copy of the calendar mailed to you.
Come back and visit our blog often in 2011, for more pest control tips, information specific to our Sacramento pest control region, and news you can use to help keep your family, home or business healthy, safe and pest-free!