Citrus Heights Pest Control Options that are Green and Earth-Friendly
At Earth Guard Pest Control Services, we're here to do more than simply provide for your pest control needs. We're also here to offer you the latest earth-friendly, green pest control solutions so that you can beat infestations without worrying about harsh chemicals. Our green pest control solutions provide a great way to reduce pest populations without putting your own health at risk. These new, green pest control solutions are also incredibly effective, so you don't have to worry that you're wasting money on an ineffective pest control service.
As an EcoWise certified pest control company for Citrus Heights, we've worked hard to learn the latest in green pest control management techniques. We believe that a holistic approach to pest control is necessary in order to mitigate infestation risks. We take Citrus Heights pest habits and lifecycles into account when formulating our plan of pest control attack. At the Earth Guard pest control company, we're here to put our knowledge and experience to work on behalf of home and business owners throughout the greater Citrus Heights area.
Earth Guard Pest Control Company – The #1 Pest Control Experts for Citrus Heights
Many Citrus Heights homeowners love to have company over, but you're probably picky about who you invite into your home. Some guests you may not want in your home are ants, termites, silverfish, yellow jackets, wasps, spiders, roaches, pigeons, rats or mice, but they can easily all take over your home in a matter of days. At Earth Guard Pest Control Services, we're here to help you by providing the best in extermination and pest control services for homeowners throughout the greater Citrus Heights area. No matter your infestation problems, we can help you.
Premier Pest Control Services In Citrus Heights
As a Citrus Heights homeowner, you know that pest control problems can do more than just cause inconvenience. Pest control issues can also pose health and safety concerns, especially if you live with children or the elderly. Thankfully, there's no need to let insects, rodents or vermin ruin your Citrus Heights property or put your health in jeopardy. As your pest control professionals of choice, we're here to provide the immediate help Citrus Heights homeowners need in order to get rid of infestations. We're here to tackle your pest control problems no matter how severe.
Your Affordable Pest Control Company For Citrus Heights
All Citrus Heights homeowners want to keep their homes free of pest control problems. Unfortunately, keeping pests out of your home might seem expensive or even impossible. You might be concerned that you'll have to sign a long term pest control service contract or that you'll be charged exorbitant fees if you need to cancel an appointment. At the Earth Guard pest control company, we're a local, family owned and operated business proudly serving our Citrus Heights neighbors. We understand the challenges you face when looking for quality pest control services at affordable prices, and we're proud to offer all of our pest control services without a contract. To help you save on pest control, we also offer:
Free, written estimates for all pest control services.
Monthly pest control service specials.
Pest control discounts for our Senior citizen customers
A customer referral program for new pest control customers in Citrus Heights.
Citrus Heights Pest Control Guarantee – 100 percent satisfaction guarantee so that you can rest assured knowing that we'll re-treat your home for free if you're not pleased with the pest control results the first time.
The Best in Citrus Heights Pest Control Services
Quality pest control services requires more than just a quick extermination. Effective pest control also requires smart, proactive planning to prevent infestations from happening in the future. At the Earth Guard pest control company, we believe that pest control management is the key to keeping your Citrus Heights property clean and safe. We've tailored our services to meet the needs of our local climate in Citrus Heights. We're familiar with the pests in our area, and we're here to provide the best pest control services for Citrus Heights homes and businesses no matter how severe your infestation.
We offer the best in pest control services in Citrus Heights including:
Citrus Heights home and construction site inspections to identify infestation threats.
Pest trapping, spraying and disposal for local Citrus Heights homes and businesses.
Integrated pest control management plans designed for Citrus Heights residents.
We are your Citrus Heights Pest Control Experts
The Earth Guard pest control company is proud to serve our Citrus Heights neighbors. As a locally owned, family operated business, we treat our Citrus Heights customers how we like to be treated – like family. When you call us for pest control services anywhere in Citrus Heights, we pride ourselves on answering your call personally and always returning messages promptly because we know pest control problems don't wait!
Customer Satisfaction for our Citrus Heights Customers is Our Most Important Goal!

When we show up for a pest control appointment in Citrus Heights, it's important for all of our customers to know that offer free pest control estimates and a full guarantee for all our pest control services. we want to solve your pest control problems as quickly and permanently as possible so our work is complete only when you are satisfied, so we work hard to keep you happy and to answer all your questions.We understand professional pest control services is not just about bug spray, it's about relationships in our Citrus Heights community.
So, whether you live in Citrus Heights, own a business in Citrus Heights or are in the real estate industry in Citrus Heights, you can rest easy knowing our professional pest control technicians will be there to resolve all your pest control needs–quickly, reliably, effectively.
We understand that every community around Citrus Heights has a slightly different eco-system, that's why we educate our pest control technicians on the lifecycles and breeding patterns of household pests and on the latest integrated pest control techniques. We are also proud members of Pest Control Operators of California , and as an EcoWise©-certified pest control company, we work to stay abreast of the latest innovations in the field of pest control services that can benefit our Citrus Heights customers.
Even in Citrus Heights, our pest control team sees just about everything. From Ants, Spiders, Rats, Mice, Rodents, and Cockroaches, to Silverfish, Bedbugs, Wasps & Yellow Jackets, Pigeons, Termites, Fleas, and Ticks – our pest control experts are trained to identify and utilize the most effective pest control methods to eliminate your pest control problems and prevent them from coming back.
You may have noticed our fleet of pest control trucks driving around Citrus Heights. They are fully equipped with the latest pest control equipment that enables our pest control team to provide a complete set of pest management and pest control solutions to homes and offices in Citrus Heights.
We care about our Citrus Heights customers and our employees. We want you to feel confident in our professional pest control services and comfortable having us implement effective pest control management for your Citrus Heights home or business.
Call Us to Schedule Your Free Pest Control Estimate In Citrus Heights!
We are committed to providing the absolute best pest control service each and every time we visit your Citrus Heights home or business. Our goal is simple: to restore or maintain your Citrus Heights home to a clean, pest-free environment. We want you to sleep well at night, knowing you, your home, and your family are safe from unwanted pests.
Call Earth Guard Pest Control today and let our experienced Citrus Heights pest control experts solve your household pest problems.
916-457-7605
About Citrus Heights
Fifteen miles northeast of California's capital, the plains of the Sacramento Valley begin their gradual rolling ascent to the Sierra Nevada foothills. For 19th -century pioneers, the sight of the gently folded landscape meant they had arrived at the promised land.  The Transcontinental railroad and the Lincoln Highway later brought new waves of travelers through our area.  Today, Interstate 80 – the main transcontinental highway connecting New York and San Francisco – serves businesses and the 89,000 residents who call Citrus Heights home.
Remaining predominantly rural through the 1960s, Citrus Heights began its emergence as a regionally important retail destination in the 1970s with the opening of the Sunrise Mall and Birdcage Walk shopping centers.  The seismic stability of Citrus Heights, distinguishing it from much of coastal California, undoubtedly contributed to its growth and maturation.  After existence as an unincorporated area of northeastern Sacramento County for nearly 100 years, Citrus Heights became an independent city offering local municipal services in January 1997.  Unchanged, however, is our traditional Citrus Heights hospitality.  We enthusiastically welcome you.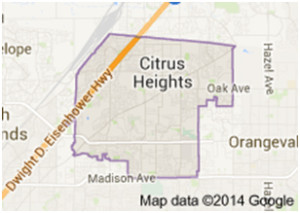 Get free quotes and fast, same-day response for your pest control service needs in Citrus Heights. Call, click or email us today!