An Affordable, Local Pest Control Company In Natomas
Like many Natomas home owners, you probably enjoy welcoming guests into your home. Unfortunately, some guests simply don't wait for you to roll out the welcome mat like termites, ants, silverfish, roaches, yellow jackets, wasps, spiders, rats, mice or pigeons.  A bug or pest infestation can spell serious trouble for any Natomas home owner. At Earth Guard Pest Control Services, we're here to help by taking care of your extermination and pest control needs. We're proud to be the premier pest control company for homeowners and businesses throughout the greater Natomas area.
Professional Pest Control Services for Natomas
For Natomas home owners, pest infestations do more than just pose an inconvenience. In some cases, pest infestations may also raise serious health and safety concerns. You don't want to let insects, rodents or vermin cause damage to your property or put your health at risk. If you're worried that your Natomas home suffers from an infestation, it's time to call in pest control professionals who understand the pest control needs of Natomas homeowners. As Natomas' pest control company of choice, our exterminators can quickly diagnose and manage your pest control problems no matter how severe.
Keeping your Natomas home free of pests is probably one of your top priorities. However, you may have put off pest control services because you're not sure that you can foot the bill. You might have heard that you'll need to sign a lengthy pest control service contract or that you'll pay a hefty fee if you cancel your appointment. At the Earth Guard pest control company, we understand that local homeowners face many demands. That's why we're proud to offer our pest control services to our Natomas neighbors without a contract. To help you save money on pest control, we offer:
Free estimates for all pest control services.
Monthly specials on pest control services.
A senior citizen discount for pest control customers over 65.
A referral program for new Natomas pest control customers.
Natomas Pest Control Guarantee:  100 percent satisfaction guarantee – We promise that we'll re-treat your property for free if you're not pleased with the pest control results the first time.
Our Selection of Natomas Pest Control Services
Controlling pest infestations means both exterminating populations today and proactively planning to prevent future infestations. At the Earth Guard pest control company, we know that proactive management is key to keeping your home or business infestation free. Our pest control services are tailored to the Natomas area and are designed to offer the very best results possible. We understand pests in the Natomas area and are prepared to meet your pest control needs head on.
We offer a wide variety of pest control services to meet your needs including:
Pre-construction treatment for termites in Natomas.
Preparation of wood destroying organisms (WDOs) reports for Natomas properties in escrow.
Pest spraying, trapping and disposal for Natomas homes and businesses.
Natomas Home and construction site inspections to identify infestation threats.
Integrated pest control management plans to for Natomas neighborhoods.
Your Green and Earth-Friendly Pest Control Options Are Right Here In Natomas
At the Earth Guard pest control company, we want to do more than just provide you quality pest control services. We also want to offer the best in earth-friendly and green pest control solutions so that you can control infestations and maintain your peace of mind. Our green and organic pest control services are designed to address pest concerns without causing the same worry as harsh, traditional pesticides. Choosing our green pest control solutions is a great way to beat back pests and protect your own health.
We've worked hard to learn the latest in pest control management techniques and are proud to be designated as an EcoWise certified pest control company for Natomas. We believe in a well-rounded approach to pest control services that takes pest habits and life cycles into consideration in the Natomas area. At the Earth Guard pest control company, our mission is to understand the pests that attack your Natomas home so that we can eliminate them and restore your peace of mind in as little time as possible.
Natomas
Natomas is a community in northwestern Sacramento, California. It is the last area of Sacramento that has not been fully developed and has seen major residential development in the 1990s and 2000s. Major growth has been mostly due to Sleep Train Arena, home court to the Sacramento Kings, located in Natomas. Natomas is generally defined as south of the Sacramento County line, north of the Garden Highway and the American River, west of the Natomas East Main Drain, and east of the Sacramento River.
The more developed area of Natomas is its southern tip. Many of the South Natomas homes were built in the 1950s, but developers have found pockets of space for newly constructed homes. Many of the established parks and community centers in Natomas can be found here.
Natomas is just minutes from downtown Sacramento to the south and from the Sacramento International Airport to the north.There are so many different residence choices in Natomas. One could rent an apartment, traditional and senior living. There are plenty of detached single family homes or condominiums. For those seeking luxury living, they can snag a multi-million dollar river front home along Garden Highway.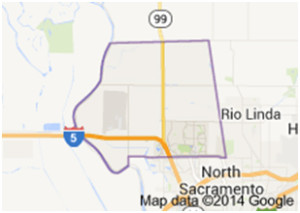 We are your Natomas Pest Control Experts
The Earth Guard pest control company is proud to serve it's Natomas neighbors. As a locally owned, family operated business, we treat our Natomas customers how we like to be treated – like family. When you call us for pest control services anywhere in Natomas, we pride ourselves on answering your call personally and always returning messages promptly because we know pest control problems don't wait!
Customer Satisfaction for our Natomas Customers is Our Most Important Goal!
When we show up for a pest control appointment in Natomas, it's important for all of our customers to know that offer free pest control estimates and a full guarantee for all our pest control services. we want to solve your pest control problems as quickly and permanently as possible so our work is complete only when you are satisfied, so we work hard to keep you happy and to answer all your questions.We understand professional pest control services is not just about bug spray, it's about relationships in our Natomas community.
So, whether you live in Natomas, own a business in Natomas or are in the real estate industry in Natomas, you can rest easy knowing our professional pest control technicians will be there to resolve all your pest control needs–quickly, reliably, effectively.
We understand that every community around Natomas has a slightly different eco-system, that's why we educate our pest control technicians on the lifecycles and breeding patterns of household pests and on the latest integrated pest control techniques. We are also proud members of Pest Control Operators of California , and as an EcoWise©-certified pest control company, we work to stay abreast of the latest innovations in the field of pest control services that can benefit our Natomas customers.
Even in Natomas, our pest control team sees just about everything. From Ants, Spiders, Rats, Mice, Rodents, and Cockroaches, to Silverfish, Bedbugs, Wasps & Yellow Jackets, Pigeons, Termites, Fleas, and Ticks – our pest control experts are trained to identify and utilize the most effective pest control methods to eliminate your pest control problems and prevent them from coming back.
You may have noticed our fleet of pest control trucks driving around Natomas. They are fully equipped with the latest pest control equipment that enables our pest control team to provide a complete set of pest management and pest control solutions to homes and offices in Natomas.
We care about our Natomas customers and our employees. We want you to feel confident in our professional pest control services and comfortable having us implement effective pest control management for your Natomas home or business.
Call Us to Schedule Your Free Pest Control Estimate In Natomas!
We are committed to providing the absolute best pest control service each and every time we visit your Natomas home or business. Our goal is simple: to restore or maintain your Natomas home to a clean, pest-free environment. We want you to sleep well at night, knowing you, your home, and your family are safe from unwanted pests.
Call Earth Guard Pest Control today and let our experienced Natomas pest control experts solve your household pest problems.
916-457-7605
Get free quotes and fast, same-day response for your pest control service needs in Natomas.
Earth Guard Pest Services is the premier pest control services provider for Natomas, owned and operated by Earth Guard Pest Control. We provide integrated pest management services for residential homes to exterminate and remove a variety of pests including ant, spider, bee, wasp, yellow jacket, roach, silverfish, pigeon, bed bug, rat, mouse, termite, ear wig, and tick infestations. We provide pest control services for the greater Natomas area and surrounding communities. To learn more about our comprehensive pest management solutions, home inspections, and how to get the best pest control services in Natomas, Email us at [email protected] Please send all correspondence to Earth Guard Pest Control, 4220 Stockton Blvd., Sacramento, CA 95820.